Doing Business in Canada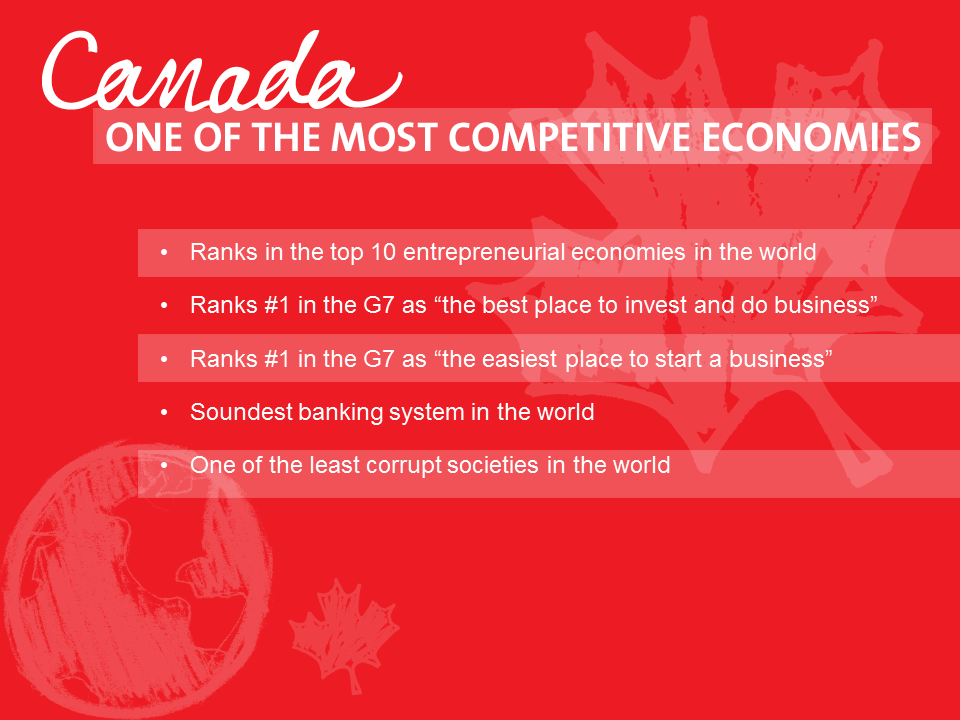 Canada has inherent expertise and available capital in the Mining and Energy, Agriculture and Agri food, ICT, Engineering and Education while Serbia needs to develop its Mining and Energy, Agriculture and Agri food, ICT, Engineering and Education; however, Serbia lacks the capital and a strong resource base and this is where most significant partnership/business opportunities currently lie.
Canada Key Figures
Canada is located in Northern North America, bordering the North Atlantic Ocean on the east, North Pacific Ocean on the west, and the Arctic Ocean on the north.
A land of vast distances and rich natural resources, Canada became a self-governing dominion in 1867 while retaining ties to the British crown. Economically and technologically, the nation has developed in parallel with the US, its neighbor to the south across the world's longest unfortified border. Canada faces the political challenges of meeting public demands for quality improvements in health care, education, social services, and economic competitiveness, as well as responding to the particular concerns of predominantly francophone Quebec. Canada also aims to develop its diverse energy resources while maintaining its commitment to the environment.
Area
total: 9,984,670 sq km
country comparison to the world: 2
land: 9,093,507 sq km
water: 891,163 sq km
Land boundaries
total: 8,893 km
border countries: US 8,893 km (includes 2,477 km with Alaska)
note: Canada is the World's largest country that borders only one country
Elevation extremes
lowest point: Atlantic Ocean 0 m
highest point: Mount Logan 5,959 m
Natural resources:
iron ore, nickel, zinc, copper, gold, lead, rare earth elements, molybdenum, potash, diamonds, silver, fish, timber, wildlife, coal, petroleum, natural gas, hydropower
Ethnic groups:
Canadian 32.2%, English 19.8%, French 15.5%, Scottish 14.4%, Irish 13.8%, German 9.8%, Italian 4.5%, Chinese 4.5%, North American Indian 4.2%, other 50.9%
note: percentages add up to more than 100% because respondents were able to identify more than one ethnic origin
Population:
34,834,841
Major urban areas – population:
Toronto 5.573 million; Montreal 3.856 million; Vancouver 2.267 million; Calgary 1.216 million; OTTAWA (capital) 1.208 million; Edmonton 1.142 million
Government type:
a parliamentary democracy, a federation, and a constitutional monarchy
Administrative divisions
10 provinces and 3 territories*
Economy– overview
As a high-tech industrial society in the trillion-dollar class, Canada resembles the US in its market-oriented economic system, pattern of production, and high living standards. Since World War II, the impressive growth of the manufacturing, mining, and service sectors has transformed the nation from a largely rural economy into one primarily industrial and urban. The 1989 US-Canada Free Trade Agreement (FTA) and the 1994 North American Free Trade Agreement (NAFTA) (which includes Mexico) touched off a dramatic increase in trade and economic integration with the US, its principal trading partner. Canada enjoys a substantial trade surplus with the US, which absorbs about three-fourths of Canadian merchandise exports each year. Canada is the US's largest foreign supplier of energy, including oil, gas, uranium, and electric power. Given its abundant natural resources, highly skilled labor force, and modern capital plant, Canada enjoyed solid economic growth from 1993 through 2007. Buffeted by the global economic crisis, the economy dropped into a sharp recession in the final months of 2008, and Ottawa posted its first fiscal deficit in 2009 after 12 years of surplus. Canada's major banks, however, emerged from the financial crisis of 2008-09 among the strongest in the world, owing to the financial sector's tradition of conservative lending practices and strong capitalization. Canada achieved marginal growth in 2010-13 and plans to balance the budget by 2015. In addition, the country's petroleum sector is rapidly expanding, because Alberta's oil sands significantly boosted Canada's proven oil reserves. Canada now ranks third in the world in proved oil reserves behind Saudi Arabia and Venezuela.
Government of Canada announces largest ever single investment in research infrastructure
Announced in Budget 2015, the Government of Canada is investing $1.33 billion in the Canada Foundation for Innovation (CFI). With this new funding, Canadian universities, colleges and research hospitals will be able to continue to undertake globally competitive research that is essential to the health, prosperity and quality of life of Canadians.
Read the full news release via the Canada Foundation for Innovation
website
Start-up advice invaluable for student and graduate entrepreneurs
According to a recent CIBC study, more than half a million Canadians started their own business since 2012, and no fewer than seven business schools in Canada now offer Entrepreneur-In-Residence (EIR) programs to help students and graduates get started. Mayank Chauhan, an MBA graduate from the University of Victoria and successful founder of nutTea, a tea infused, 100-precent organic energy bar, is one such graduate. If not for the University of Victoria's EIR program, which is available to all students and graduates, "I probably wouldn't have gotten to this point as fast," says Chauhan. "They helped me with a lot of connections and gave me a lot of knowledge."
Read the full article via the Globe and Mail
website
Canadian cities boast highest quality of living in North America, says Mercer ranking
According to the Mercer 2015 Quality of Living Rankings, Canadian cities topped the list as the best places to live in North America. . Vancouver, Toronto, Ottawa and Montreal ranked first through fourth all offering a stable and safe environment for expatriate employees and international students.
Read the full press release via the Mercer
website
Smile! Canada is one of the happiest countries on earth
Did you know that Canada is one of the happiest countries on earth? According to the Organization for Economic Co-operation and Development's Better Life Index, a comparison of well-being across countries, Canada ranked near the top across all indicators, including education and overall life satisfaction. In fact, the vast majority of Canadians (80%) say that positive experiences feature prominently in their day to day lives.
Read more about the quality of life in Canada on the OECD's Better Life Index
website
University of Waterloo graduates among top contenders for jobs at Google
According to Steven Woods, engineering director at Google Canada, the University of Waterloo has long been one of Google's top three recruiting universities worldwide. Mr. Woods, who earned a doctorate degree from the University of Waterloo notes that "Waterloo grads do well at Google, they do very well."
Read the full article on the Business Review Canada
website


































Registration
Bilateral Talks
Participants

364

Meetings Requested

90

Meetings Accepted

20
Profile views
Before Event

3672

After Event

834111